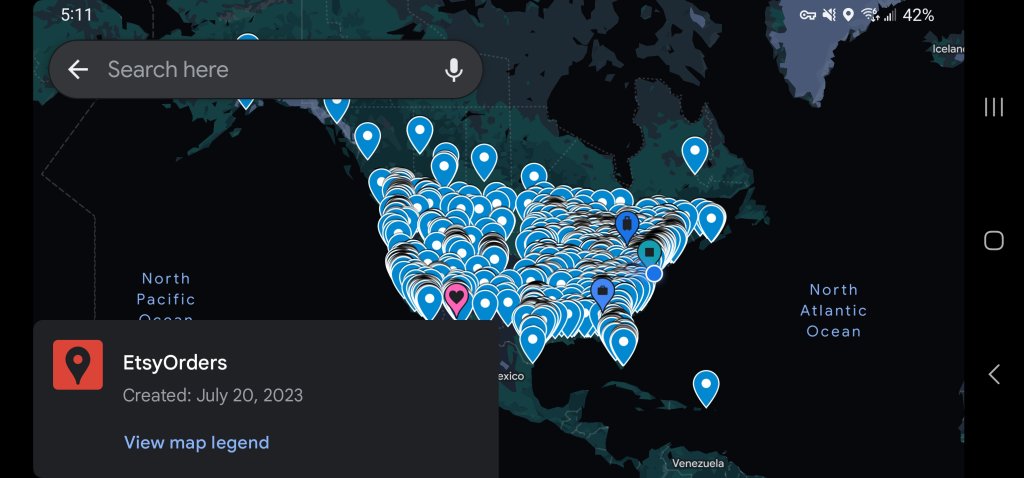 I saw a Reddit post recently about the eRank feature that maps your orders. However, it only does the last 300 orders. Here's how to map every order. This should just take you 5 minutes. If you find this useful please click the links to the right when you buy on Amazon to help pay for this hosting.
First, go to your Etsy shop manager, and click Settings -> Options -> Download Data.
Under Order Items, select the most recent year, and then Download CSV.
Repeat that for every year you have been open.
You may want to edit the CSV files in your spreadsheet software to remove all data except for City, State, Zip, and Country. Because you will be uploading the data to Google Maps, it's probably not a good idea to send up customer info without removing the personal info first.
Now got to mymaps.google.com
Click the + icon to create a map
Click Legend -> Add Layer -> Import, and select the first CSV file you downloaded from Etsy.
Select City, State, Zip, and Country and click Continue
Select Zip, and continue.
Repeat the last 3 steps for every year of CSVs you downloaded.
That's it. You may want to relabel the layers and name the map itself. That will allow you to view specific years if you want. Also, some of the imports might have errors. You may need to correct those. About 5 percent of my orders didn't get in, so I didn't really bother with it.